Call Now 1-800-411-5068
If your High Rise Condominium, Multi-Unit, Commercial or Industrial building, or Single Family Home has been affected by water damage, or moisture intrusion, or has suffered a flood, trust the best locally owned and operated Emergency Water Cleanup expert team to be an on-site WITHIN MINUTES NOT HOURS and to fully assess the situation, properly restore the water damaged area and cleanup, mitigate, remediate and restore your space to pre-loss condition
Our qualified and trained professionals have provided commercial, industrial and residential water damage restoration/flood restoration with excellence for many years in your local area. If water, sewage, or flood damage strikes your High Rise Condominium, Multi-Unit, Commercial or Industrial building, or Single Family Home, it can quickly devastate your property.
We understand that time is of the essence during water-related emergencies; the professional staff at Emergency Water Cleanup are trained to quickly handle every contingency related to the impact of floods or any water damage restoration needs. Our professional team will respond immediately to various catastrophes, disasters, and accidents including floods, water damage, and sewage damage mitigation.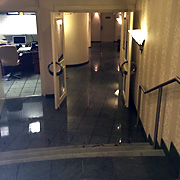 We contain the water damage, decrease the effect of the incident and begin the process of water damage restoration in Pompano Beach and anywhere in South Florida. Immediate Response to water damage IS CRITICAL in order to properly preserve your property to mitigate mold damage.
We realize how upsetting the damage can be in your home and our restoration professionals have years of experience bringing structures back to pre-loss conditions quickly and efficiently by using state-of-the-art technology and equipment.
We pride ourselves on being able to respond quickly and effectively in order to prevent any additional damage possible to your Commercial, residential, or industrial space.
We are available 24 Hours a Day, 7 Days a Week,365 days a year, our professionally qualified team will arrive within minutes, not hours, to thoroughly assess the water damage and will immediately work to resolve your water emergency damage no matter the size of your leak.
Our professional staff is ready to provide a wide range of services from Full Disaster Relief to identifying and resolving isolated leaks in confined areas. Once the damage has been assessed, we utilize specialized equipment to dry and dehumidify the space. We also will perform additional restoration services in order to make certain that mold will not have the chance to start growing therefore preventing additional secondary damage to your water damaged/flooded area. Our trained professionals will make sure that your space will look and smell like new and as if no damage had occurred!
Drying equipment & water damage equipment rentals | Emergency water cleanup | smoke, and fire damage restoration | storm damage restoration | Water damager restoration
WE COVER YOUR DEDUCTIBLE
Ask For Details!* 24/7/365, WE RESPOND WITHIN MINUTES NOT HOURS!
WE WORK WITH ALL INSURANCE COMPANIES